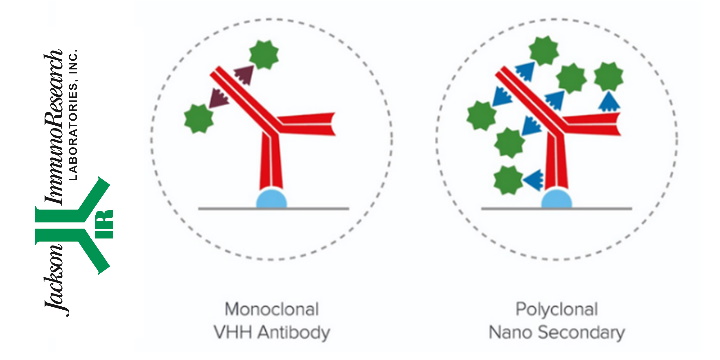 Nano Secondary Antibodies
Introduction
Camelid species such as Alpaca and Llama produce a unique class of antibodies composed only of heavy chains. The antigen-binding fragments (Fab), also termed Variable Heavy-Chain only fragment antibodies (VHH Fragments), or nanobodies (Figure 1), are an exciting, novel antibody format. With their small 15 kDa size and outstanding specificity and penetration, VHH Fragments offer a fantastic solution for high-quality and high-resolution imaging. Jackson ImmunoResearch Nano Secondaries are a specialized detection reagent that harnesses the unique properties of VHH Fragments to produce high-quality results.
About Nano Secondary antibodies
Jackson ImmunoResearch Nano Secondaries are polyclonal VHH Fragment antibodies (nanobodies) produced in Alpacas. They are available with specificity to Human, Rabbit or Mouse. Being 10x smaller than conventional whole IgG antibodies, the <15kDa VHH Fragment antibodies are perfect for imaging experiments where good penetration is necessary. Nano Secondary antibodies are cross-adsorbed for exquisite specificity against target species with minimal cross-reactivity to other commonly used species, making them suitable for application in multiple labeling experiments. They are available conjugated to reporter enzymes and a range of fluorescent dyes including Alexa Fluor® providing scope for high-resolution Immunohistochemistry and Immunofluorescence.

Advantages of Nano Secondary antibodies
Small size means access to higher resolution imaging
A fraction of the size of conventional antibodies, nanobodies have been readily adopted as powerful tools for confocal and high-resolution imaging as detection reagents (De Groeve et al 2010, Pleiner et al 2015, Barakat et al 2022, Erreni et al 2020). The small diameter of the nanobody format, a 5th of the size of conventional antibody complexes used for indirect labeling (24-30nm), decreases the distance between the probe and the antigen, allowing higher-resolution images to be captured (Pleiner et al 2015, Carrington et al 2019). Consequently, single-domain antibodies have been used to characterize protein conformation, ligand and receptor relationships, and stoichiometries by Single-Molecule Localization Microscopy (SMLM) such as FRET (Förster Resonance Energy Transfer) or TIRF (Total Internal Reflection Fluorescence). Labeling with nanobodies brings the probe molecule into close enough proximity with the target necessary for accurate localization, reducing the linkage error associated with labeling using conventional antibodies, (Shrestha et al 2015, Croup et al 2019, Gormal et al 2020, Lelek et al 2021).
However, direct labeling is not always possible due to the limited availability of commercial nanobodies raised against target proteins. Fluorescently tagging proteins, for example with GFP (Green Fluorescent Protein), is an option but not only does this require cloning and expression of a recombinant protein, the process can alter the conformation and functionality of the protein of interest (Lelek et al 2021).
Jackson ImmunoResearch Nano Secondaries allow the researcher to access high-resolution imaging without the added investment of further optimization. Researchers can still exploit the reduced diameter of the antibody-nanobody complex to visualize at higher resolutions (Pleiner et al 2018). As seen in Figure 2, the addition of an indirect detection step only marginally increases the diameter of the binding complex, with the distance of the probe remaining relatively close to the target protein enabling much finer localization of the target antigen.
All Nano Secondary antibodies are available conjugated to a range of dyes including Alexa Fluor® dyes making them suitable for super-resolution techniques like STED and STORM.

Polyclonal means reliable and superior signal
Polyclonal detection reagents continue to offer the the best sensitivity by amplifying signal, even from poorly expressing targets. Polyclonal antibodies offer a heterogeneous population of antibodies, each with a different paratope detecting a different portion of the primary antibody. Figure 3 demonstrates that by binding across the whole of the primary antibody, rather than a limited specific site/region/sequence the polyclonal Nano Secondary can decorate the primary antibody profusely, enabling higher labeling efficiency and brighter signal.
The unique CDR (Complementary Determining Regions) of VHH Fragments are reported to enable access to antigen epitopes (Bannas et al 2017) which are otherwise unavailable to conventional antibodies. For example, the long loop structure of the VHH Fragment CDR3 may facilitate binding to protein surface pockets.
Excellent penetration and clearance
Nanobodies show excellent tissue penetration due to their small size (Chakravarty et al 2014, Debie et al 2020, Hernández et al 2019) which allows them to move freely through the tissue due to having a lower diffusion coefficient than conventional antibodies (Jovčevska and Muyldermans, 2019). The absence of a fragment crystallizable (Fc) further improves clearance of the molecule from tissues making them an excellent tool for diagnostics imaging techniques such as Immuno-PET (Krasniqi et al 2018).
Nano Secondary antibodies utilize these unique characteristics enabling excellent tissue penetration and clearance without the need for extended incubations or potentially damaging detergents.
Stain cells, dead or alive!
Conventional immunoglobulins having an Fc fragment are generally only suitable for labeling of fixed samples, as permeabilization of live cells can affect biological functions via Fc fragment binding. Nanobodies, which lack the Fc fragment can be used for immunostaining of live cells (Lelek et al 2021)
Cross-adsorbed for better specificity and lower background
JIR Nano Secondary VHH antibodies are cross-adsorbed against commonly used species to reduce background and enhance specificity. Our suite of Nano Secondaries can be used in combination to generate exquisitely specific multiple labeling images.
Access to an entire spectrum of dyes
Indirect labeling using conjugated Nano Secondaries gives researchers more experimental scope by allowing them to use fluorophores to utilize wavelengths that may have been inaccessible when cloning in fusion tags such as GFP. Aside from the potential difficulty of adding a fusion tag onto a protein, in avoiding cloning, artifacts from protein modification can be avoided to give more representative functional data (Lelek et al 2021). JIR Nano Secondaries are available conjugated to fluors from ultraviolet to far-red allowing researchers maximum flexibility when building experiments, particularly those identifying multiple target proteins.

Applications
Immunofluorescence
Super-resolution microscopy
Western blotting
Flow cytometry