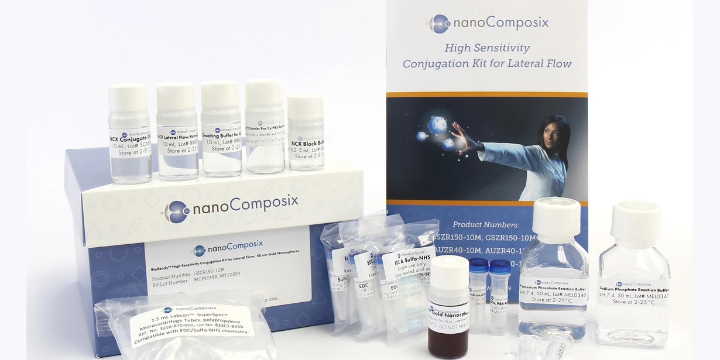 High Sensitivity Gold Conjugation Kit for Lateral Flow
Imagine an optimized system with time-after-time consistency that provides increased sensitivity and saves you time and money!
The High Sensitivity Conjugation Kit is a complete "classroom-in-a-box" with detailed protocols to help you produce robust covalently-bound conjugates. This kit is available with our ultra-bright 150 nm gold nanoshells as the reporter particle and includes everything you need to optimize your conjugations.
Benefits of the kit include:
Pre-validated consumables eliminate the risk of purchasing non-compatible reagents, saving weeks to months of unnecessary troubleshooting
Increase your assay sensitivity up to 20-fold with 150 nm gold nanoshells compared to 40 nm gold* nanoparticles
Reduces antibody costs up to 65% compared to physisorption
Saves time by reducing the number of conjugations necessary to find optimal antibody pairs
Already a conjugation expert? This kit eliminates the need to pre-screen and validate critical reagents and supplies to ensure your best chance of success when starting out with covalent conjugation to gold nanoshells.
PROTOCOLS
Kit includes 10 mL of BioReady 150 nm Gold Nanoshells with a carboxyl surface, provided at 20 OD.