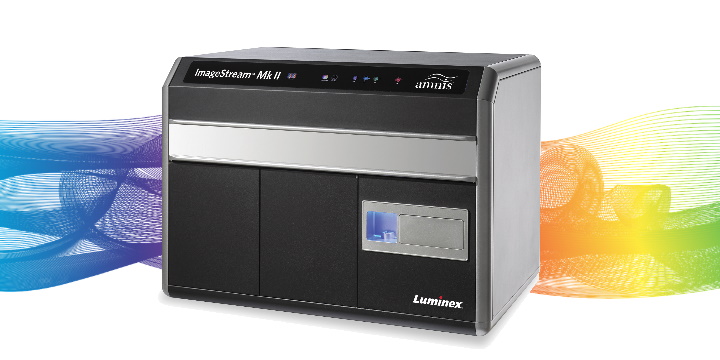 Amnis ImageStreamX Mk II
High resolution microscopy for the ultimate cell analysis using the Amnis ImageStreamX Mk II:
Flow cytometry plus imaging
Sensitivity
Statistical microscopy applications
Up to 6 lasers, 12 channels
High resolution, 60X magnification
Amnis® AI Image Analysis Software
Amnis® AI incorporates the latest advancements in computer vision to create an intuitive and powerful image analysis tool.
Amnis AI represents the next generation of image analysis software. The software allows scientists to visually categorize multiple cell classes in their experiment, which in turn trains the computer to identify those populations in unknown samples. Amnis AI leverages several cutting-edge software features, including computer-aided hand-tagging, clustering with object map plots, generation of a novel experimental model using deep learning convolutional neural networks (CNN), and easy-to-understand results, (including confusion matrix tables with accuracy analytics).
Combined with Amnis high-throughput imaging systems, Amnis AI is an easy-to-use analysis tool, allowing researchers to harness the power of artificial intelligence to further their scientific discoveries.
IDEAS® Software
IDEAS® Software offers powerful, familiar tools for creating histograms and scatter plots. Click on any dot in a scatter plot to see the corresponding cell's image. Numerical scoring of parameters such as size, shape, texture, colocalization, and intensity allow for quantification of visual data.
Expandable to Meet Your Needs
The IDEAS Analysis Software Package is extraordinarily robust, providing hundreds of features for every cell. IDEAS Software also allows you to create almost any new feature you may need from the basic feature set.
Fully Integrated Image and Statistical Data
In IDEAS Software, population statistics and imagery are completely integrated. Every dot on a scatter plot links directly to a cell's images – click on the dot and you'll see the corresponding cell. Click on an image to link to the feature values and points in the scatter plot. With its virtual sorting capability, IDEAS Software will show you all the images of a cell population you define.
An Efficient, Flexible Data Interface
The IDEAS interface integrates image data, plots, and statistics. The gallery shows you images of every cell, while the workspace gives you graphing tools to define and analyze cell populations and statistics tables to view population stats, as well as individual feature values.
Templates and Batch Processing
Once you've created an analysis scheme in IDEAS Software, you can save it as a template for batch processing future experiments, automated data analysis for high throughput experiments, or to share with colleagues.
Amnis imaging flow cytometry data files (.DAF/.CIF) are directly compatible with FCS Express Image Cytometry software (from DeNovo Software) for further data analysis.
Analysis Wizards
Pre-configured and optimized wizards are provided for many common applications.
---
Machine Learning for IDEAS 6.3
Luminex has released the latest version of the Amnis IDEAS 6.3 image analysis software, which now comes with the ability to activate the Machine Learning Module!
Machine Learning simplifies analysis by making it easier to classify cells based on specific parameters. To do this, the Machine Learning Module creates a unique classifier that helps researchers customize image-based analysis to their specific application—without the need for complex masking or feature generation. With Machine Learning, you can simply click on a cell of interest and the software will identify other cells with the same features.
In the example to the right, Machine Learning for IDEAS 6.3 was used to create three new classifiers to identify the overall shape of red blood cells in the dataset. Round, sickle, and sideways cells can be clearly enumerated using these three unique classifiers.