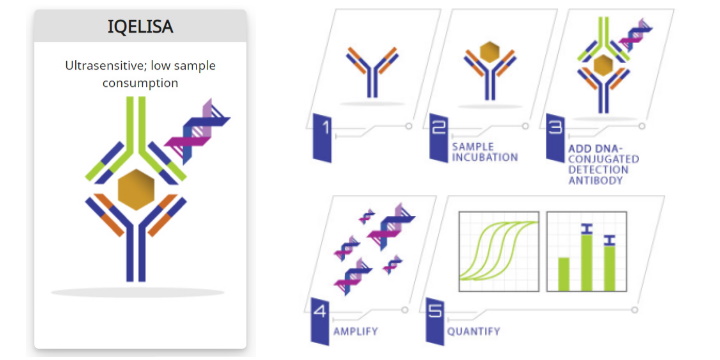 The RayBiotech Immuno-Quantitative ELISA (IQELISA™) is an immuno-PCR assay that combines the specificity and ease of use of an ELISA with the sensitivity of real-time PCR. This detection platform results in an assay that is simultaneously familiar and cutting edge. Compared to traditional ELISA, IQELISA™ enables the use of only 1/10th the sample volume while also providing 10x more sensitivity.
How It Works
RayBio® IQELISAs employ specific capture antibodies coated on a 96-well PCR plate. Standards and samples are pipetted into the wells; the target protein in the standards and samples binds to the immobilized antibody. The wells are washed and the detection affinity reagent is added to the wells where it binds to any captured antigen. The wells are washed, and primers and PCR master mix are added to each well. The plate is placed into a real time PCR instrument for cycling and measurement of DNA amplification. The cycle number where amplification is detected is proportional to the amount of affinity detection reagent that bound to captured antigen in each well.
IQELISA™ Testing Service
Send Us Your Samples, We'll Send You Results
If you prefer to avoid the learning curve of rtPCR, let us run it for you. Richiedi una quotazione.
Features
Excellent for follow up/confirmation of antibody array data

Pre-coated 96 well plate

Complete kit includes all necessary reagents

10x more sensitive than ELISA

Reproducible and reliable

Optimized for serum, plasma, urine and cell culture medium

1/10th the sample volume of an ELISA
Contents of Kit
96-well pre-coated plate (12x8)
Wash Buffer Concentrate (20x)
Standards
Sample Diluent Buffers
Biotin-labeled Detection Reagent
Primer Solutions
PCR Master Mix
PCR Preparation buffer
Final Wash Buffer
Research Applications
Detection of quantitative protein levels in biological fluids
Validation of antibody array results
Validation of biomarker discovery studies