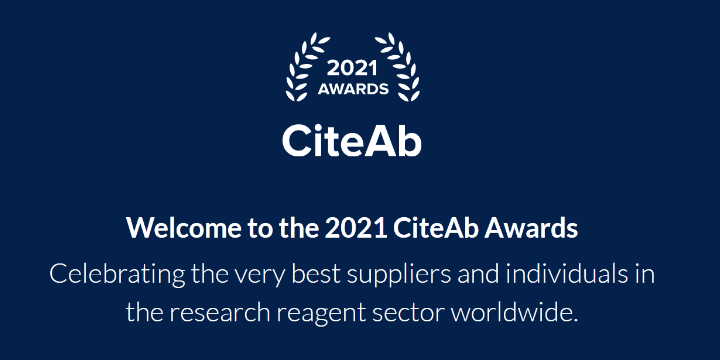 I CiteAb Awards, arrivati alla loro settima edizione, nominano i migliori produttori di reagenti per la ricerca scientifica. Ecco i premi ricevuti dalle aziende distribuite da Prodotti Gianni.
Specialist antibody supplier of the year 2021 - Jackson ImmunoResearch
Jackson ImmunoResearch focuses on producing secondary antibodies and CiteAb data shows how successful it was between January 2020 and December 2020.
Supplier succeeding in SARS-Cov-2 research - Sino Biological
This is a brand new award recognising a supplier that has reacted quickly to the events of 2020 and has achieved success with products related to COVID-19. It demonstrates an ability to be agile, and a contribution towards fighting the global pandemic that has kept most countries in a state of lockdown over the past year.
This award was made based on CiteAb data gathered from the start of the COVID-19 pandemic onwards, and highlights Sino Biological as the company which has seen the most citations for COVID-19 related reagents during this time.
Supplier succeeding in SARS-Cov-2 research award highly commended: Genetex
For the high number of citations for reagents used in SARS-CoV-2 research.
Antibody supplier succeeding in cardiovascular research - Abcam
Abcam was the company with the largest percentage of citations for products used in cardiovascular research, demonstrating continued success in the cardiovascular research field.
Protein supplier to watch in 2021 - Sino Biological
This is an exciting award for the supplier with the largest percentage increase in citations for protein products. Data for Sino Biological demonstrating a quick upward trajectory in use of its protein products.
Protein supplier of the year 2021 - MilliporeSigma
This award recognises the supplier with the most citations for protein reagents between January and December 2020.